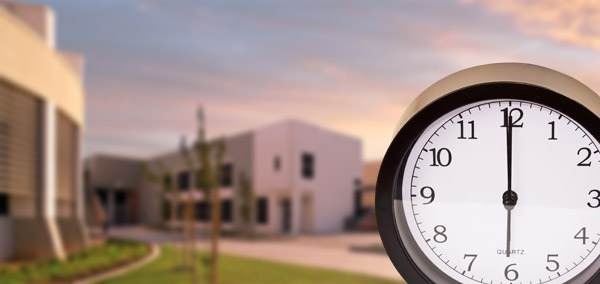 Island ConnectEd K-12 does not have bells, but we do have a set daily schedule!
Things to Note:
Our grade 10-12 teachers will be offsite 1-3 days per week while they support students at our local high schools. Students looking for support in their studies may schedule a virtual classroom (Collaborate) session.
Grade K-7 students may contact their enrolling teacher for onsite work periods. As well, there will be opportunities for face-to-face lessons during the school year; watch for the announcement of times.
Grade 8-12 students may work in our onsite Secondary classrooms during the regular work schedule. This is a great opportunity to access face-to-face support.
During the school year, there may be extended hours to allow for students to come in to work at the site past 3:30 PM.  These dates and times will be announced via Jupiter Grades and/or our Facebook page.
Our Weekly Schedule
| Day | School Open |
| --- | --- |
| Monday | 8:30 AM – 1:45 PM |
| Tuesday | 8:30 AM – 3:00 PM |
| Wednesday | 8:30 AM – 3:00 PM |
| Thursday | 8:30 AM – 3:00 PM |
| Friday | 8:30 AM – 1:45 PM |